This presentation explores some of the ways you can design courses to promote collaboration and engagement using a variety of Moodle core activities.
All too often we see Moodle courses that are uploaded readings, a textbook quiz, and a teacher created glossary. We develop workshops and support resources to help teachers take their courses further. Many of the long time Moodlers in attendance will be familiar with https://docs.moodle.org/30/en/Pedagogy#Progression and this presentation aims to provide useful examples of how to progress teachers.
There will be practical examples, opportunities to ask questions and discussions on the activities.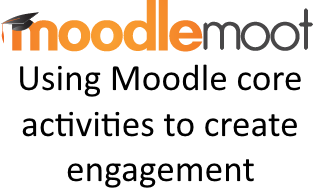 Welcome to our Moodle exemplar_Basic
If you can get your Moodle course to have the same features as this exemplar, then you're on track for meeting the Stage One Moodle Standards requirements.
How to use this exemplar
Have a look through, take note of the navigation, style, and information.
If you have queries, click on the links and buttons scattered throughout the course.